If you have ever owned a Dodge 2500 or 3500 4x4 you have experienced the less then amazing steering on these beasts. The front end is way underbuilt and had some geometry issues with the linkage along with the steering gear having massive lash and the output shaft that the pitmen arm attaches to actually canting instead of moving the pitmen arm.  As we move along things that are poopy on the old Dodge frontend we can't forget the infamous death wobble.  There are a number of things that contribute to this but one area to always start with the trackbar bushings.  We also find with the already large tires a dual steering stabilizer is a must-have.  Follow along as we share our recipe on how to De-Dodge your front end.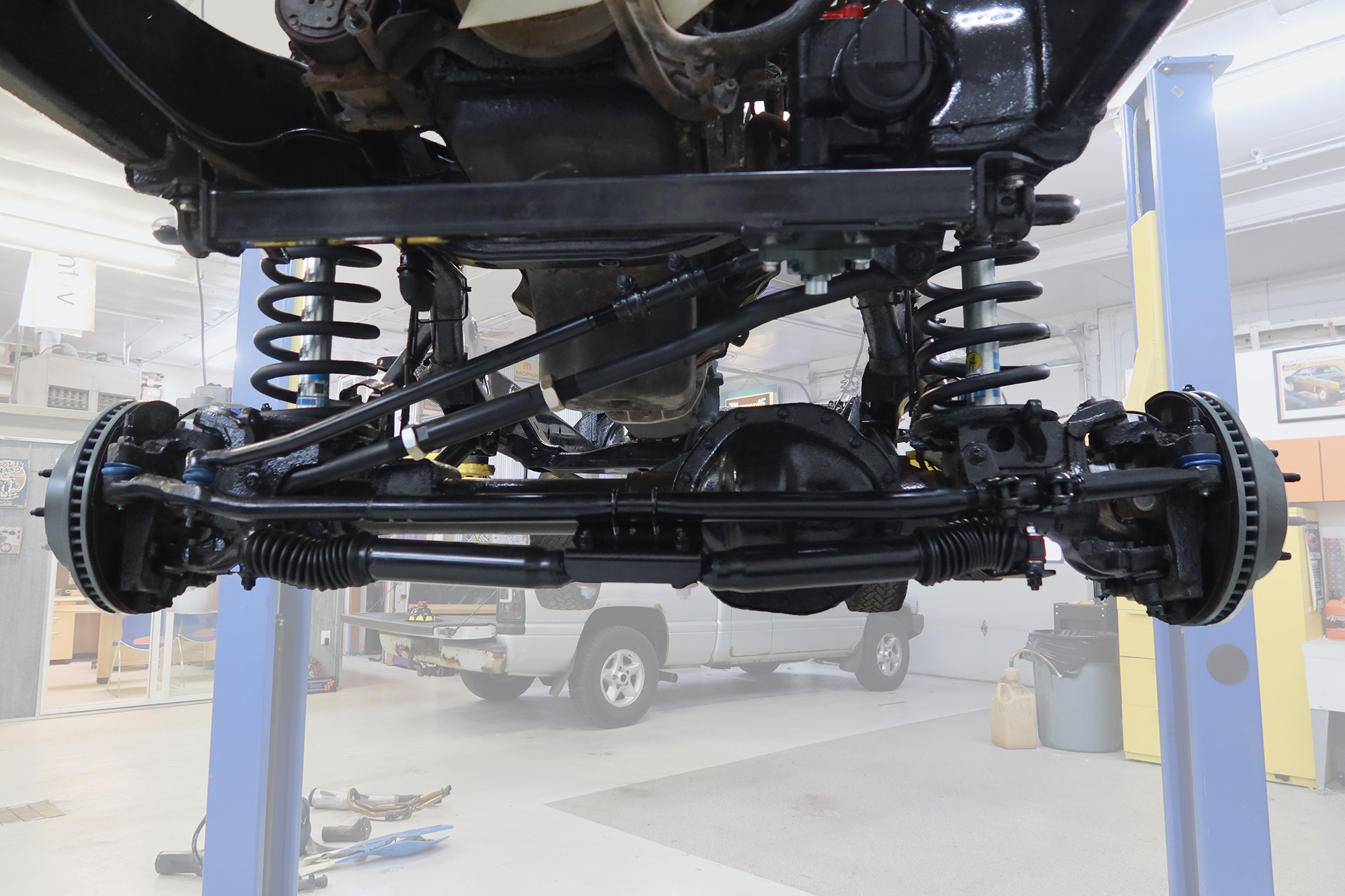 Corrected Geometry Steering Linkage
Dual Steering Stabilizer Shocks
Another Dodge touchpoint we have found that needs updating is the steering box. We leverage RedHead Steering Boxes.  Steering Gear Box is available in a heavy duty upgrade option which is applicable if the vehicle is used for off-roading, has tires that are larger than 37 inches in diameter, or is used for heavy hauling.  Here is a great article from Doug Leno at Turbo Diesel Register on the RedHead Steering gear.
These are a must for any Dodge Ram truck. These are installed on all our builds and always are part of the front-end upgrade
FULLY ADJUSTABLE FROM STOCK HEIGHT TO 6 INCHES OF LIFT
Apoc Dodge Ram adjustable controls arms are a significant upgrade from stock; factory controls arms work great with factory-sized tires and suspension. Once you go bigger, you need more robust and longer controls arms to maintain correct handling. Apoc Dodge control arms are built to maintain proper suspension and steering geometry to keep your truck feeling like stock but better. When adding any amount of lift to a Dodge Ram you change your caster angles which can create dangerous steering symptoms and harder to maintain proper wheel tracking which can cause your vehicle to wander between the lines easier. Big tires and big lifts look great but don't sacrifice handling and create a beast to keep on the road upgrade your control arm and drive with ease. Adjustable Controls arms are fully adjustable from stock all the way to 6" of lift, so if you're just starting with a mild lift for now but upgrading later, these arms will suit your needs as you add more lift over time.
Adjustable Track Panhard Bar
The adjustable track bar is a vital part of a lifted straight axle vehicle. The track bar is used to center your axle from left to right; if the length is not correct for your lift...Replace the factory's weak, stamped steel, rubber bushed, flexible panhard bar with one of our heavy duty adjustable set-ups.Our adjustable rear panhard bar allows for centering the rear axle housing after lowering or lifting the ride height and it's the best component for serious handling and towing performance.It also allows for lateral alignment of the rear end for clearance when running larger tires and greatly increases the rear end's lateral stability.
Corrected Geometry Steering Linkage
We use updated geometry linkage to improve response and death wobble. If you do a Google search on the subject you're likely to come across numerous discussions of using the T style steering from a 4th Gen Ram for the conversion. The problem here is that the tapered holes in the knuckles will have to be enlarged in order for the 4th Gen parts to fit. As a note you can't simply drill out the tapered holes, they require a larger diameter TAPERED hole and NOT a straight diameter hole. Ram 2500/3500 trucks came with either the light duty inverted Y steering or the optional heavy duty T steering. The the 94-97 light duty inverted Y steering and the 98-99 heavy duty T steering.
Dual Steering Stabilizer Shocks
We have found adding a dual shock stabilizer greatly improves the feel of the steering wheel and provides much more responsive steering. With the already larger factory tires you are looking at a lot of unsprung weight spinning like a gyroscope. Now up the tire and wheel size and you have a lot of mass spinning . The smallest bump cab cause bump steer or death wobble.
MOOG hub assemblies are performance-proven, quality-tested, and available for a broad range of foreign and domestic vehicles. Their application-specific design enhancements provide longer life, smoother operation, and optimum ABS performance.
Wheel Stud Bolts: Wheel studs feature a protective coating that helps prevent rust and corrosion, allowing easier removal and proper torquing of the wheel nut.
MOOG Abrasion-Resistant ABS Cord: Manufactured from a blended material that provides superior ABS protection, increases abrasion resistance, and protects against adverse conditions.
OE Design Flaws  The OE design of wheel bearing and hub assemblies is shoddy at best. Common symptoms of a failed OE wheel hub are:
Loose wheels leaning into the vehicle
Premature tire wear and poor handling
Snapping or clicking noise on turns
Humming or rattling when driving straight
Anti-lock Braking System (ABS) light is on
If you are experiencing any of these issues, get your vehicle checked out immediately.
Dodge built their front ends way too weak for the weight of a diesel truck. We have a much heavier ball joint we install that will take the weight of the Cummins and large tires and wheels.
These heavy-duty ball joints are built using advanced processes and unique engineering to maximize their durability. All parts undergo rigorous testing to ensure that long-lasting dependability and strength are built into every part, making sure your vehicle is ready to handle even the harshest driving conditions. You can also drive with confidence knowing your parts are backed by a limited lifetime warranty. Induction-hardened stud and integrated metal-on-metal bearing help eliminate failure points
Larger ball with greater surface area better distributes the suspension load and grease channels increase flow throughout the joint
Superior corrosion-resistant coating enhances rust protection and part life
Premium synthetic grease and serviceable grease fitting provide easy installation and maintenance
We proudly service Ford PowerStroke, Chevy Duramax, and Dodge Cummins light-duty diesel trucks.   
In addition to repairing your vehicle if a problem occurs, we can also perform all of the necessary maintenance on your vehicle including oil changes, tire rotations, radiator services, and anything else to make sure your diesel vehicle is always running at peak performance.
Looking for a new turbo, power chip, or exhaust system to get more out of your diesel vehicle? We do all of that and more. Get the most out of your diesel today by stopping in or calling and talking to one of our expert technicians. Let us help you achieve your goals.
Contact us today to schedule your appointment.
Give us a call 651-233-3272 or fill out the contact form below!