We started working on this 1974 D600 Fire truck a couple months ago in between working on other builds like Andy's 05 Cummins. Over this time the boys have done an amazing job at figuring out exactly what is wrong and needs cleaning or a replacement.
Starting things off we had to get it running, this consisted of tuning up the ignition system as well as an oil change, new filters, a new starter, belts, carb rebuild, and fixing some vacuum leaks. Once it was running the boys installed a new master cylinder, bled the brakes, and did some rewiring for the turn signals which finished up what was needed to get her running and driving. After the required work to the motor was done, they started on the water tank hoses. Believe it or not all she needed was some new valves and both hoses sprayed like new, ready to put out some fires.
During our test drives we had an issue where the truck would almost hop and shake when starting from a stop, Mathew and Jaden suspect a warped flywheel is the issue so they are currently working on taking the transmission out so they can fully diagnose the concern.
Check out the size of this beast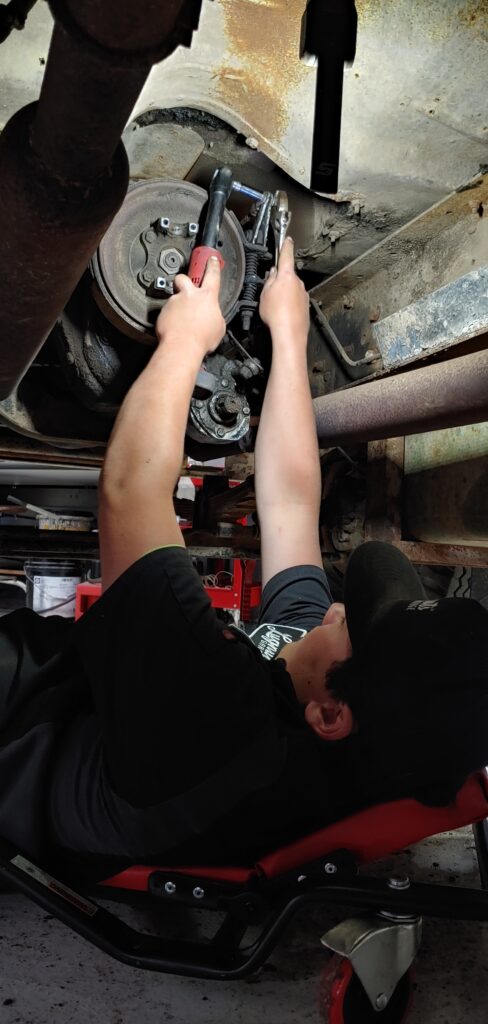 Jaden working on getting the transmission out
Check out the first start up of this awesome truck!